Professional Landscape Maintenance & Lawn Care Services Oro Valley
At Arizona Landshapes Inc. in Oro Valley, AZ, we understand that your lawn is essential to your overall property. We strive to provide professional landscape maintenance services so you can enjoy a well-maintained lawn and landscape all year round.
Lawn Care & Maintenance
Our experienced landscapers know how to care for any lawn. We offer regular mowing, edging, aeration, overseeding, fertilization, and more. Our team can also help remove weeds that might make your lawn look unsightly or unhealthy. If you're looking for a vibrant green lawn during the summer months or a luscious green patch in the wintertime, we've got the knowledgeable staff to make it happen!
Debris Removal
When it comes to keeping your property neat, there's nothing more important than regular debris removal services. From leaves in the fall to branches after spring storms, we will ensure all unwanted debris is removed quickly and efficiently. Our team uses advanced
equipment to safely clear large amounts of debris without damaging your property.
Tree & Shrub Trimming & Removal
We also provide comprehensive tree and shrub trimming and removal services. Proper pruning helps trees grow into strong structures with healthy root systems while allowing them to maintain their natural beauty over time. Additionally, suppose you have overgrown shrubs or trees that have become dangerous due to age or decay. In that case, our skilled professionals can remove them quickly and safely without causing further damage to your property.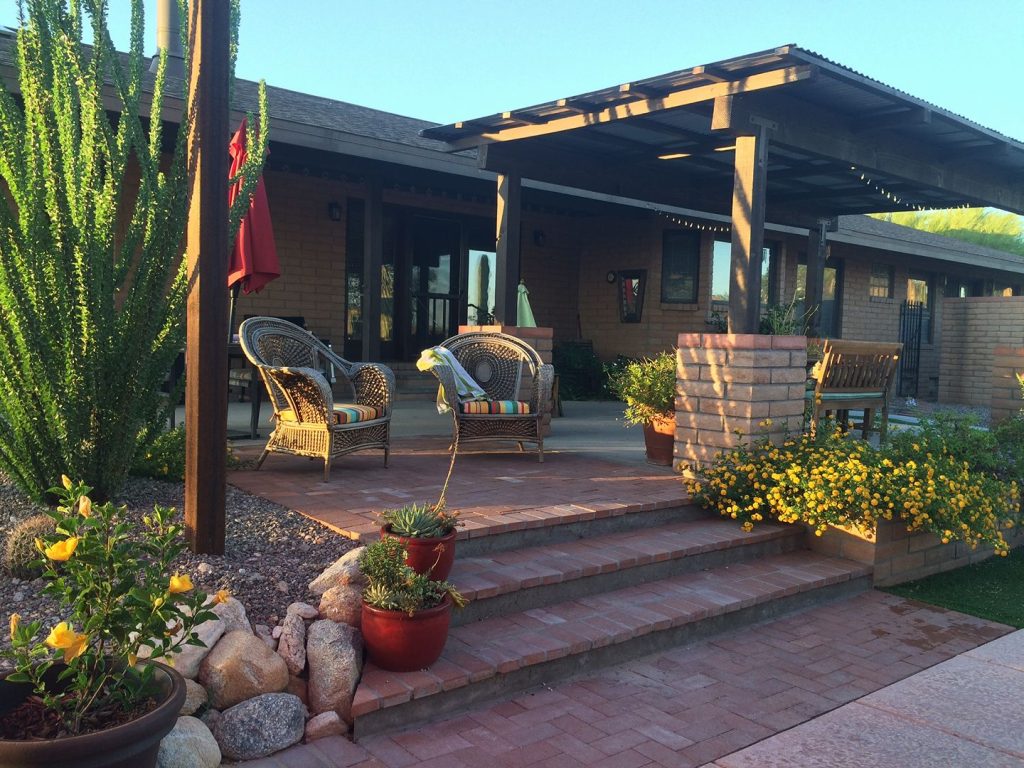 Monthly Services
Our monthly service plan is the perfect solution for more significant properties with multiple outdoor spaces! With this package, you get access to a variety of different services, including mowing, edging, weed control/prevention, fertilization treatments for both turf
grasses and ornamental plants/shrubs/trees (including seasonal color), irrigation management/repair/installation services as well as routine pest control applications (for insects like grubs). This package is ideal if you want a consistently beautiful outdoor space throughout the year!
Why Choose Us?

At Arizona Landshapes Inc., we believe in providing the highest quality work and customer satisfaction. We offer:
1) Guaranteed customer satisfaction – We strive to offer the best experience for our customers by providing a total satisfaction guarantee.
2) Expertise and technical knowledge – Our team has years of experience in the field and is up-to-date on the latest technology and techniques.
3) Cost savings – You can save time and money using us. We offer competitive rates and strive to provide the best quality of service at a reasonable cost.
4) Professionalism – Our team is always professional and courteous, striving to ensure that all customer needs are met.
5) Safety and security – We take the security of our customer's data seriously and always make sure that any information shared is kept confidential. Call Arizona Landshapes Inc. in Oro Valley, AZ, for the best professional landscaping services.
Whether you need help designing the perfect outdoor retreat, installing a low- maintenance desert landscape, or maintaining your existing property, our experienced professionals will work with you to bring your vision to life.

Landscaping Contractor
Landscape Design
Landscape Installation
Maintenance Programs
General Tree & Shrub Pruning
Complete Irrigation Services
Patio Construction
Grading and Drainage
Water Features
Landscape Lighting
Ramada Construction
Green Roofs
LEED
Revegetation Projects
Bioremediation
Disease & Pest Identification
Herbicide & Fertilizer Programs
Drainage Repair